It can be a pretty daunting experience to search for the best feminine WordPress themes available online. I get it – you want the best-looking theme for your online business. Not only the best-looking one, but you also have to consider theme responsiveness. In reality, there are a lot of factors to consider when choosing the best WordPress theme for your online blog. Don't worry, the dirty work has been done for you in this post.
All the feminine WordPress themes in this post are among the best in the market. Every single theme should be mobile-friendly aka responsive. Each gorgeous theme is also SEO-friendly and user-friendly. Most of all, they are elegant, feminine, and modern just the way you like it!
1. WordPress ChicBoss Theme
Regular Price:💲129
My ultimate favorite among feminine WordPress themes is Bluchic's ChicBoss Theme. It is the perfect theme for women entrepreneurs who are service-based such as coaches and consultants.
2. WordPress ChicWell Theme
🔥 Regular Price:
129
For wellness entrepreneurs, Bluchic's ChicWell Theme  is your perfect match. It is a highly versatile WordPress wellness theme where you can showcase your health services with ease.
3. WordPress ChicSavvy Theme
🔥 Regular Price:💲129
For creative coaches, Bluchic's ChicSavvy Theme  is just an absolute beauty. This template allows you to showcase your podcasts, free ebooks, and a lot more just on the main page itself.
4. WordPress ChicShop Theme
🔥 Regular Price:💲129
If you are mainly selling digital or physical products on your site, ChicShop Theme is ideal. It is WooCommerce-based and very easy to use even if you are a beginner seller.
5. WordPress Glamour Theme
Price:💲149
Restored 316's Glamour Theme is a stunning pastel theme for lifestyle bloggers in general. You get the essentials you need to build your blog such as a sign-up form and social buttons. However, it is on the pricier side than the rest.
6. WordPress Hello Luv Theme
Price:💲65
If you love signature fonts, you'll adore Hello You Design's Hello Luv Theme. The script fonts used make the website very elegant and feminine.
7. WordPress Hello Beaches Theme
Price:
79
Travel bloggers and vloggers would love Hello You Design's Hello Beaches Theme. There are 2 versions to choose from: a happy beachy vibe or a misty rainforest vibe.
8. WordPress Hello Chic Theme
Price:
79
If you want to show the CEO in you but still want that feminine touch, try Hello You Design's Hello Chic Theme. It's modern, it's versatile – but still evokes that femme fatale power you want.
9. WordPress Charlize Divi Theme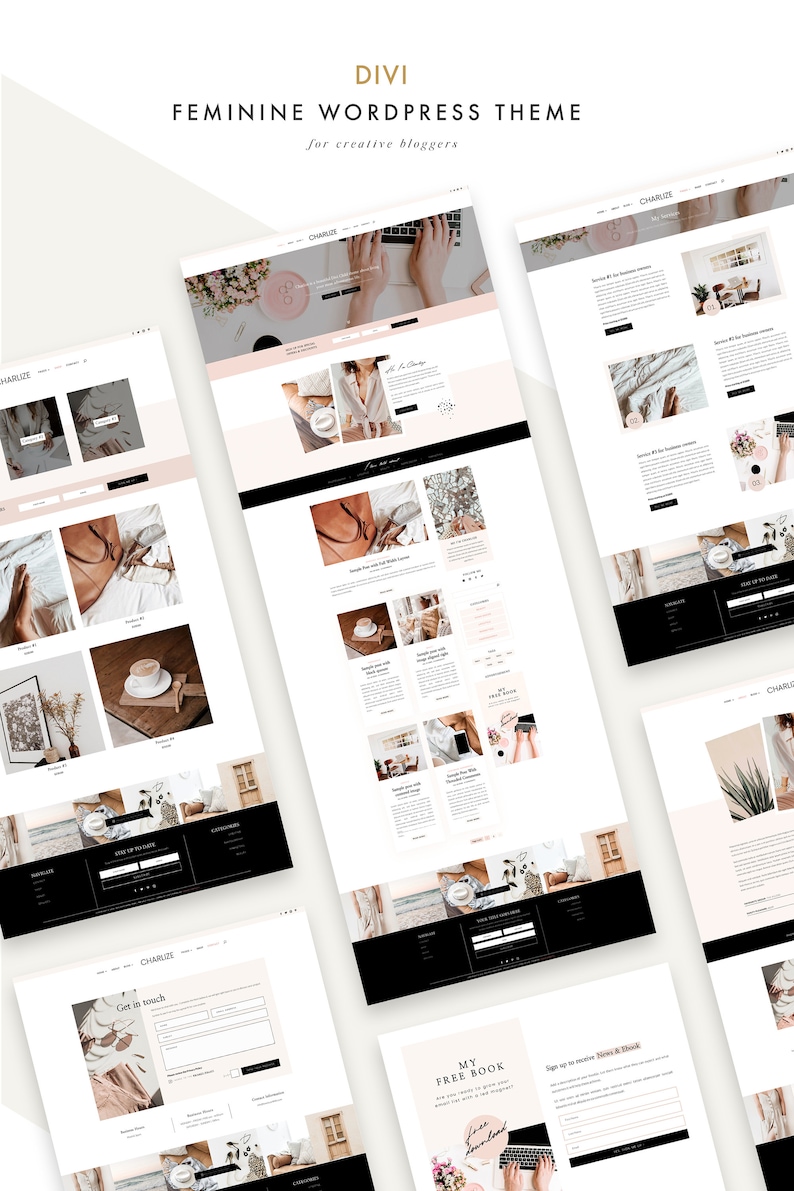 Price: 💲53* / priced in Euros at website
If you love to write about fashion and such, Lovely Confetti's Charlize Divi Theme  is the perfect theme for you. It's modern and sophisticated branding will give you an easier way to brand yourself as a fashion or lifestyle blogger.
10. WordPress Maggie Divi Theme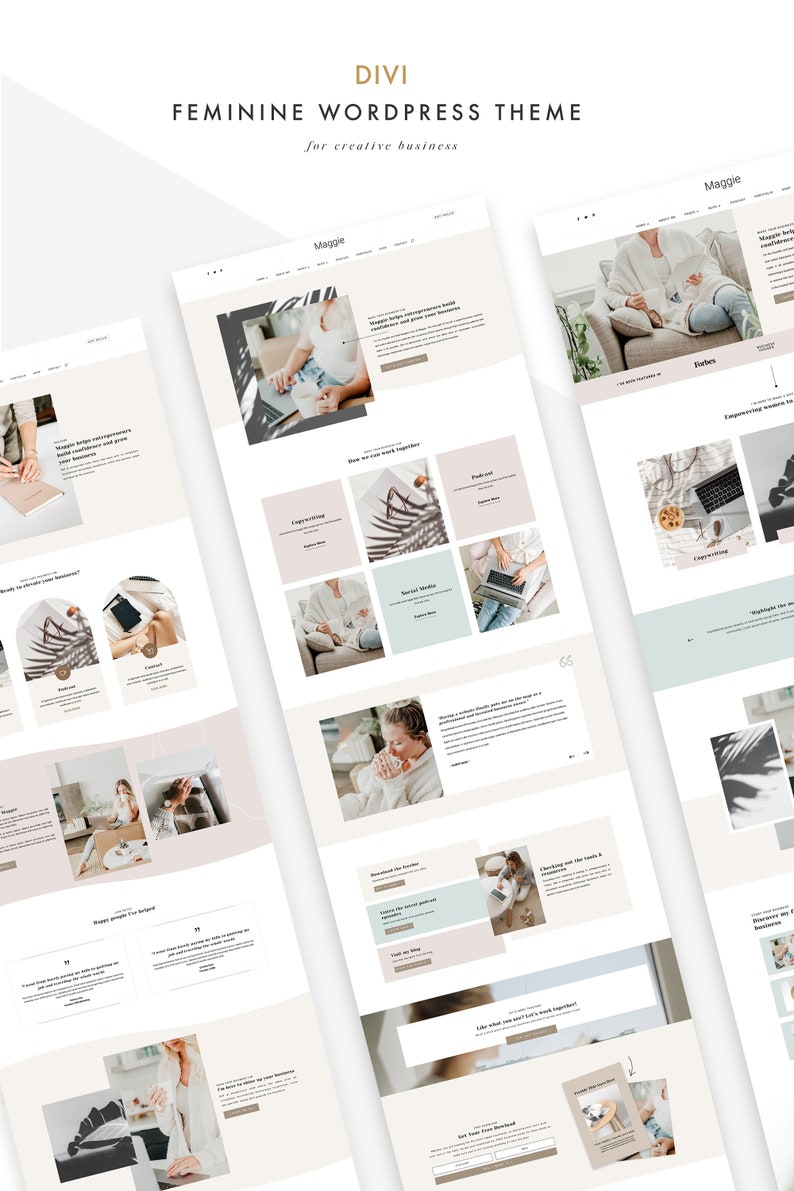 Price: 💲53* / priced in Euros at website
For creative coaches, Lovely Confetti's Maggie Divi Theme  is just an absolute beauty. The mute pastel tones exemplifies an airy and subtle vibe for those who want a minimalist approach. 
11. WordPress Olivia Pro Coaching Theme
Price: 💲53* / priced in Euros at website
The beautiful image elements in Lovely Confetti's Olivia Pro Coaching Theme  is simply stunning. It is a flexible WordPress theme waiting to be taken advantage of! Whatever your niche is, this theme will not fail you.
12. WordPress Vivien Pro Photography Divi Theme
Price: 💲53* / priced in Euros at website
If you want to showcase your photography portfolio, Lovely Confetti's Vivien Pro Photography Theme  is the best theme for you.
13. WordPress ChicSpark Theme
On Sale Right Now!
119.20
Bluchic has a newly released entrepreneur WordPress theme! Released January 2022, this beautiful theme has all the bells and whistles for service-based businesses to captivate clients! 
14. WordPress Honeyglow Theme
Regular Price:
50
Looking for a feminine yet playful WordPress theme? Its Design's Honeyglow Theme  is something to check out. The bold and playful fonts will perfectly blend with fun colors such as pink, yellow, or orange.
Now that you've seen the best feminine WordPress themes in the market, the decision rests entirely up to you. Finding the right WordPress theme is not an easy task because you have to feel the chemistry between your personality and the template. It might just be a template, but if you plan to create a profitable blog or business in the future, you have to make sure it will meet you and your clients' needs. 
On a side note, I'd also like to add that all of these themes rest in what I call the best coach themes for WordPress. Since most of my audience either are coaches and entrepreneurs, it's safe to say that ALL of these themes can be used for those purposes. 
Still in the branding process?
I've got the perfect brand board starter template right here for you!
Do you want to nominate yours or someone else's feminine WordPress theme in this post? Feel free to send us a message here! We'd love to hear from you and see this beautiful theme! 🥰